Let me tell you about Harry
Our son Harry Mills was diagnosed with Autism shortly before his second birthday. Those first months were devastating to our family and it took a great deal of time for us to find services and assistance for Harry. After heroic efforts by many people we were able to develop a therapy program for Harry to receive 20 hours a week of one on one intervention. Over the past several years Harry has increased his vocabulary immensely to where he can now answer most questions and understands what is said to him. However he still uses little spontaneous language and no real conversational skills. We continue to work on these and other goals at his new school the Shafer Center and with ABA therapists. Our family has been fortunate to have had many great therapists work with Harry over the years. Harry remembers many of them like Anna, Lissa, Kim, and Lindsay. But most of all Harry enjoys the continued love and support of his most special therapist Ms. Ellen Gulya who has been working with Harry for more than five years and has become a part of our family.
Harry will be seven this summer and has come along way as has our family. This past year he has discovered the joy of surfing and the beach thanks to the very special people at Surfer's Healing Virginia Beach. And every Saturday morning at 7:30 he is at the skating rink learning to play hockey with our new found friends and heroes The Baltimore Saints special needs hockey team, who's volunteers truly live up to their name and are all "saints". Frustration and adjustment are a part of each day and our family still mourns for opportunities and memories that are lost to Harry every week. But we have found a way to move beyond all of that and look forward to a future that is brightened by the smile and love of our very unique and special little boy, as well as the support of Heroes like you!


Help Make a Difference!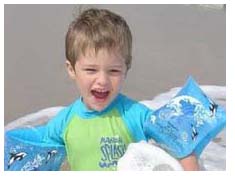 Harry at the beach Sept 05
Autism is the fastest growing developmental disability in the U.S. affecting one out of every 150 children. That's a case being diagnosed every 20 minutes or 68 children per day. This is an epidemic that is sweeping our county, and not enough is being done to save our children. More children will be diagnosed with Autism this year than with AIDS, diabetes, and cancer combined! However the funding for Autism research is tiny compared to the funding given to other diseases or disorders.
- Leukemia affects 1 in 25,000 / Private Funding $310 million
- Muscular Dystrophy affects 1 in 20,000 / Private Funding $175 million
- Pediatric Aids affect 1 in 8,000 / Private Funding $394 million
- Autism affects 1 in 166 / Private Funding $45 million


Harry's Heroes is a dedicated to raising money for research and to support grass root programs that are helping autistic kids now!. We have seen to many people desperate for help and no where to turn. Please help us raise the all too needed funds to support Autism research and programs like Surfer's Healing & the Saints for all of our children's sake.
support Harrys Hero's (word doc)